TRASH COLLECTION GUIDELINES
A.  GARBAGE COLLECTION on FRIDAYS:
City ordinance requires that receptacles be:
(i) set at curbside Friday morning, but no earlier than Thursday evenings; and
(ii) removed from the curb no later than 7:30 p.m. Friday.
[1]  HOUSEHOLD GARBAGE: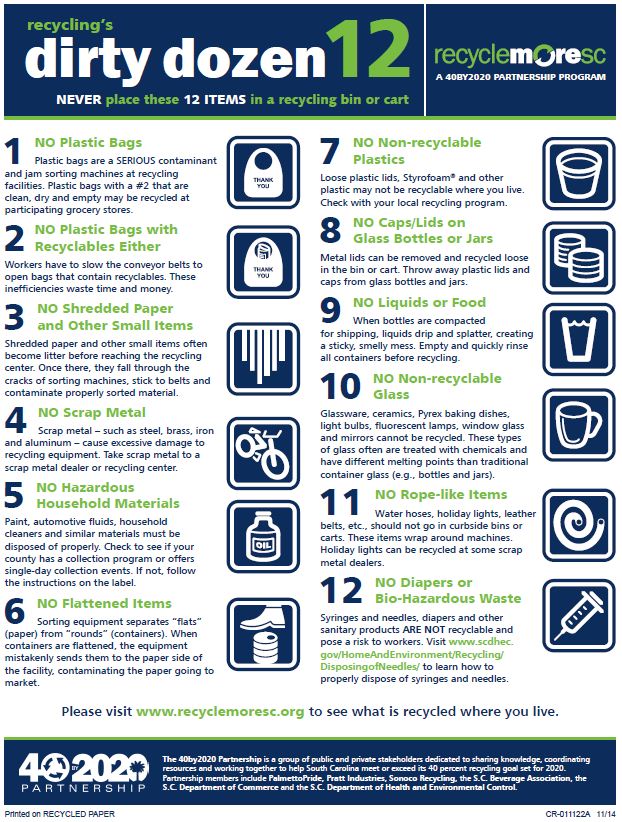 Roll carts are for household garbage. (Recyclable items and "yard trash" should not be placed in roll carts.)  A maximum of three 30-gallon trash bags or boxes also may be placed beside the roll cart for collection.
[2] BLUE RECYCLING ROLL CARTS:
for recyclable items such as: newspapers, magazines, aluminum, steel cans & lids, PETE #1 and HDPE #2 plastics, and glass (clear, brown & green). Pick up for recycling is the second and fourth Friday of every month.
B.  YARD TRASH COLLECTION on TUESDAYS:
The City requests residents to separate vegetation (yard trash) from other debris.  [Vegetation is diverted to the city's composting operation; remaining debris goes to the inert landfill.]  Set debris curbside on Monday. If it's your debris, set it in front of your yard and don't stash your unsightly discards on your neighbor's curb.  As a courtesy to all, please do not place boxes, TV sets, or other items you hope the City will haul away on the side of the road except on the Monday evening or Tuesday morning. We are not trailer trash!
C.  SPECIAL COLLECTIONS:
Must be arranged in advance with the city's sanitation division (phone: 803-525-3200 ) for trees cut down by private services, and bulky waste such as appliances, furniture and bedding. Place these items at the street on the day agreed to for pick up.  A fee may be charged for this special collection.
D. DOGGY DOO
Let's tell it like it is. Some neighbors are courteous enough to bring a bag for the excrement of their animals and then leave it in another neighbor's leaf pile. YUCK! Bring it home and put it in your trash bin. It's nasty stuff for kids and adults alike to encounter when walking in our lovely lanes.
---
If you are in need of a new trashcan or trashcan repair contact The City of Columbia.
Learn more about recycling and requesting a residential recycling bin.